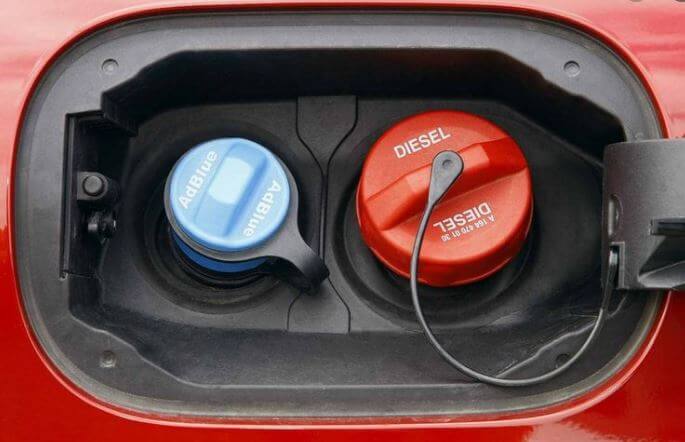 (Last Updated On: September 29, 2020)
Introduction
Many people new to diesel engines often ask the question - what is AdBlue vs Blue DEF?
Here's the short answer: AdBlue and Blue DEF are generally the same stuff, they are simply different brands of DEF. AdBlue and Blue DEF are just trademarked names used by two different companies to market diesel exhaust fluid or DEF and so they are quite similar with little differences. DEF or Diesel exhaust fluid is a special fluid that you pour into a special thank and is then injected into the exhaust pipeline to reduce the amount of air pollution created by the diesel engine. It is an aqueous urea solution that lowers nitros oxides in diesel emissions.
Which One Should You Choose: AdBlue vs Blue DEF?
This article is a side-by-side comparison of AdBlue vs BlueDEF and we can tell you upfront that both are good choices because they use the ISO 22241 stamp, as a seal of approval for their products.
In other word, it doesn't matter what the DPF you use is called, as long as it follows the ISO 22241 standard.
The ISO 22241 standard is what you should be looking for on the label to determine if the DEF that you choose is a quality product.
Each brand has long-term agreements for supply and distribution which keep their markets filled with quality DEF so in the end, it doesn't matter much which brand you choose. Again, as long as you purchase good quality ISO certified DEF in a sealed container, then you should be OK regardless of brand.
So we already know DEF is a fluid which bolsters engines to run efficiently and NOx free. Want to learn more? Let's do a in-depth comparison of AdBlue vs Blue DEF.
AdBlue vs DEF Chemical Composition
Both AdBlue and Blue DEF are composed of of 67.5% purified water and 32.5% ultra pure automotive grade urea.
This is set by regulatory standards as purity and composition of DEF is governed by ISO 22241 standard.
In other words, both AdBlue and BlueDEF use high grade automotive urea along with pure deionized water.
What Is AdBlue?
AdBlue is a term most identified with diesel exhaust fluid in Europe, Germany, and surrounding countries.
German Association of the Automotive Industry trademarked the name AdBlue in 2005. Both terms, AdBlue and DEF are correct.
Europe and adjoining countries have grown to know DEF as AdBlue.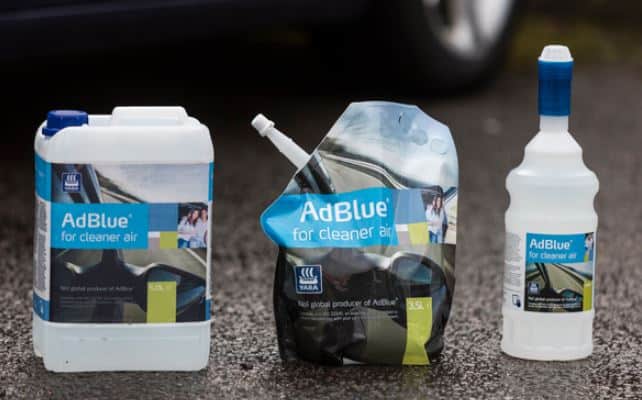 Yara is the European leader, in the manufacture and distribution of DEF under the AdBlue name. The company provides full supply chain capability for AdBlue throughout Europe.  UK, Europe, and Germany.
Each country has aggressively confronted problems of diesel exhaust fumes with the recent passage of EURO IV, V and VI. These standards affect every commercial vehicle on the highway in Europe.
Euro VI requires a 67% reduction in NOx emissions. Europe is employing two technologies to cut emissions. SCR/DEF being the principal means.
The second approach utilizes a recirculation system to reroute exhaust gases back into the intake. Recirculation does not need AdBlue (DEF).
The following manufactures use AdBlue as an OEM product.
Audi
BMW
Citroen
Jaguar
Land Rover
Mercedes-Benz
Peugeot
AdBlue is a recommended OEM product for diverse industries like agriculture and industrial.
Recommended AdBlue
As mentioned, ADBLUE is a registered trademark for DEF in Europe. This DEF type is for use with Blue-Tec engines started in 2010.
BlueTec is a Daimler Mercedes marketing name for a series of engines with advanced NOx controls. BlueTec engines have appeared on Wards list of best engines.
---
What Is Blue DEF?
Blue DEF has pursued the same supply lines as AdBlue. Blue DEF is a registered trademark owned and distributed exclusively by Peak Commercial and Industrial Products.
Peak's parent company, Old World Industries, has been in the automotive industry for over 40 years.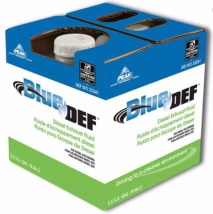 Blue DEF has many of the same quality checks along their supply chain as does AdBlue. Peak distributes DEF under two additional names, KleenDEF and Victory LineDEF.
All DEF products are owned and distributed by Old World Industries. Blue DEF is by far the best selling of Peak's product line.
PEAK Blue DEF comprises a full supply chain from single gallon units to large tote and drum solutions.
Recommended Blue DEF
BlueDEF DEF003 Diesel Exhaust Fluid Blue DEF is a registered trademark sold and distributed by PEAK. DEF003 is accepted for all diesel engines with an SCR system.
Blue DEF can be used in place of any DEF OEM products. Blue DEF carries the same purity and composition guarantees as AdBlue.
The product is ISO 22241, and American Petroleum Institute certified.
---
Why Is The ISO 22241 So Important?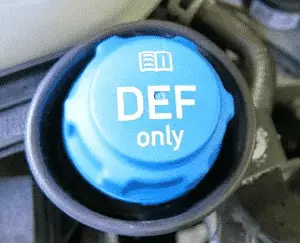 According to a DEF Market Dynamics Report, demand for DEF will reach one billion gallons by 2019.
Several companies have stood out above others for quality, dependable delivery, and support.
Over a decade ago, top automotive brands rapidly entered the DEF market, and their "quick to market" timing paid off.
Today practically every diesel engine produced utilizes some form of SCR/DEF technology.
By definition, DEF must have a composition of 32.5% urea and 67.5% water. Purity and composition of DEF are governed by ISO 22241 standard.
American Petroleum Institute also certifies the commodity. Urea must be pharmaceutical grade and not agricultural. Some producers add additional quality checks along the supply chain.
Contamination is the biggest issue with DEF and so the ISO 22241 specifies a maximum volume of contamination from calcium and other metals such as iron, copper, zinc, and aluminum that a DPF solution can legally contain. DEF must have purified water by distillation or deionized water to satisfy ISO requirements. In other words, the ISO 22241 standard is a stamp of quality.
Consumers need to identify differing terms and types of DEF. Two of the popular names are AdBlue and Blue DEF.
Major diesel builders distribute DEF under their brands such as Cummins AirShield, Motorcraft for Ford and AC Delco by General Motors.
Which DEF Should You Avoid?
Well, from all that has been said you can probably conclude that you should avoid DEF that is not ISO 22241 certified. For example, be wary of:
DEF sold by Walmart in a 2.5 gallon boxes. Always check the labels for the ISO standard.
Cheap DEP pumped at truck stops
Bottom line, always check the label and ensure the DEF meets ISO Standards 22241!
Key Takeaways
In the last decade, diesel exhaust fluid (DEF) producers, distributors and retailers have grown at a phenomenal pace.
With no signs of slowing down. Diesel technology and selective catalytic reduction (SCR) systems continue to be installed on millions of vehicles.
It is necessary to remember; every storage tank holding diesel exhaust fluid must have the ISO 22241 stamp on the label. Without a seal, there is no means of knowing if the fluid will work with an SCR system.