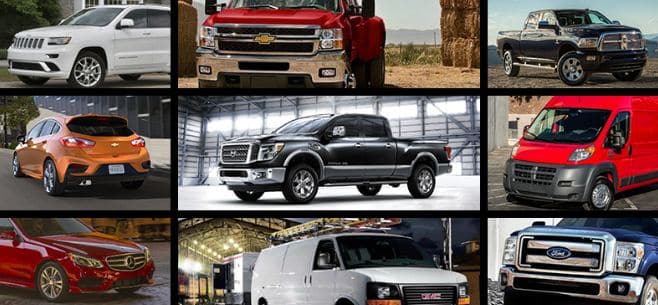 (Last Updated On: September 29, 2020)
Short Answer:
What year trucks require DEF? Most diesel based passenger cars and trucks built since 2010 require DEF. Most of these cars and trucks are equipped with Selective Catalytic Reduction (SCR) as well to help them comply with DEF rules.
Lets get into more detail:
The Clean Air Act of 1970 signaled a radical environmental shift for the federal government.  The legislation marked a sweeping view of regulating air pollution from a federal level.
In December 2000, the EPA launched a process of emission standards which would ultimately develop into the most rigorous laws in the world. Beginning with the 2007 model year, heavy-duty highway engines were required to comply with impending regulations.
In this article, we will review and answer exactly what year trucks require DEF technology.
When Was DEF Mandatory in Vehicles?
January 1, 2010, the EPA standards were enforceable for every current model year and forward.
Several technologies were developed to comply with the new rules, including Selective Catalytic Reduction (SCR) and Diesel Exhaust Fluid (DEF)
Diesel manufactures explored several technologies to reduce nitrous oxide emissions. NOx absorbers, exhaust gas recirculation, and selective catalytic reduction were examined.
Builders settled on SCR technology for large-scale deployment. SCR uses a reducing agent which contains urea and water.
DEF is injected upstream into the exhaust, converting NOx to simple gases.
What Year Trucks Require DEF? By Brand
SCR technology was first adopted in an automotive application in 2004 by Nissan Diesel. Since that time SCR technology has been implemented worldwide.
Diesel exhaust fluid (DEF) is the principal catalyst utilized in SCR systems.
What Year Chevrolet and GMC Trucks Require DEF? 
So what year did chevy start using DEF? What about GM?
Well Duramax engines have been a mainstay technology for Chevrolet and GMC since first installed in 2001.
Duramax diesel has been an option across a complete line of light and medium-duty trucks, cars, and Duramax is a cooperative undertaking between General Motors and Isuzu.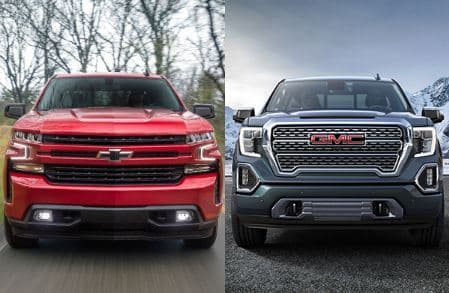 In 2007, Duramax produced a 6.6L engine with new diesel particulate filter technology.

However they didn't start using DEF until 2010 in response to 2010 EPA regulations.

In 2011 General Motors released the latest in its Duramax line, labeled the LML.  This version introduced advanced emission controls, including diesel exhaust fluid injection. So, GMC started using DEF in 2011.
There was considerable scrutiny when Duramax released the LML version. The implementation of SCR systems demands a constant flow of diesel exhaust fluid.
However, it was discovered the technology produced better than expected fuel economy. DEF was not costly, and owners were enjoying a better performance from their Duramax engines.
What Year Dodge Trucks Require DEF? 
The Cummins (Dodge) diesel has been in continuous manufacture since Clessie Cummins (a local mechanic) first cultivated the technology in 1919.
By 2013, Cummins had conquered a substantial portion of the worlds heavy-duty truck engine market.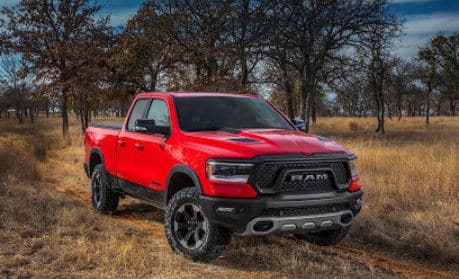 Due to increased regulations, Cummins purchased Nelson Industries (an emissions subsidiary) and changed the name to Cummins Emission Solutions.
Starting with the 6.7L engine introduced midway through 2007, Cummins introduced a complex set of components to fight toxic nitrous oxide emissions. SCR became a standard technology for the engine starting from 2007 to 2012. So, Dodge Cummis started using DEF in 2007.
SCR was called for on every Cummins diesel beginning with the 2011 model year. Cummins Industries has expanded their own Urea Dosing Technologies to facilitate emission controls across a vast product line. The dosing system is a thorough solution from individual tanks to injectors.
Cummins Industries produce diesel exhaust fluid under the Fleetguard brand. DEF can be purchased from Cummins Filtration Products.
Diesel engine builders use several technologies to fight toxic emissions. Manufacturers use all or some of the following:
Exhaust Gas Recirculation (EGR).  The process reduces NOx emissions by metering exhaust emissions through the intake. Exhaust gases are rerouted back through the system.
Diesel Oxidation Catalyst (DOC). Palladium and platinum are applied as catalysts to convert pollutants into water and carbon dioxide.
NOx Absorption Catalyst. The NAC captures nitrous oxide emission and traps them during a rich fuel burn.
Diesel Particulate Filter (DPF) The system filters particulate matter via a honeycomb shaped element. Passive and active regeneration are two cleaning methods.
Selective Catalytic Reduction (SCR) with diesel exhaust fluid (DEF) used as a catalyst.
What Year Ford Trucks Require DEF? 
Navistar built the Powerstroke diesel until 2010 when Ford produced the engine under the Ford umbrella. The 6.4L introduced in 2008 was fraught with troubles.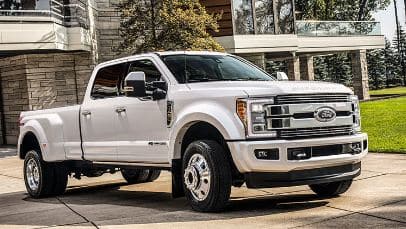 It was the first design with a diesel particulate filter and had several fuel economy issues. So, Ford started using using DEF in 2008.
Ford replaced the engine with their 6.7L in 2010.
This engine was constructed to burn low-sulfur fuel (15 ppm).
The 6.7L was interlaced with a network of emission control mechanisms.  There was a distinct configuration change from a pickup to a chassis cab design. However, output was the same.
Fords selective catalytic reduction and diesel exhaust fluid lowered the number of regeneration cycles for the diesel particulate filter.
This technology improvement positively impacted gas mileage and strengthened the longevity of the platform.
What Year Volkswagen Trucks Require DEF? 
Volkswagen has produced diesel engines since 1971, introduced with the 1.5L Golf.
Technology breakthroughs came in the 80s with the inclusion of turbocharging and direct injection.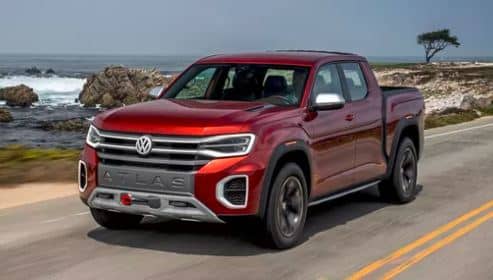 Volkswagen will be forever known for
"emissionsgate."
The Environmental Protection Agency established, the company had violated the EPAs Clean Air Act.
It was discovered the automaker had programmed direct injection turbochargers to activate emission controls only during laboratory testing.
This deception caused vehicles NOx output to meet stringent United States guidelines. In real-world driving, Volkswagen vehicles emitted 40 times more nitrous oxide emissions than authorized.
The deceitful software programming affected nearly 11 million cars worldwide and 500,000 cars in the United States.
Deliberate emissions cheating will ultimately cost the company roughly $14.7 billion worldwide, and the scandal is not anywhere near being resolved.
Which Trucks Are Clean Diesel Brands?
Clean diesel technology is being used by some of the world's best-known brands. Diesel engines are utilized is small compact cars, luxury autos, vans, and sports cars.
The following brands have all introduced clean diesel technology into their automobiles. Each engine employs SCR technology using diesel exhaust fluids
BMW
Chevrolet Express Vans
Ford Transit Vans
Jaguar
Jeep
Land Rover
Mercedes
A majority of diesel engine builders produce their own diesel exhaust fluid.  DEF must reach the ISO 22241 standard for purity for the material to be called diesel exhaust fluid.  ISO 22241 is an international designation defining quality requirements.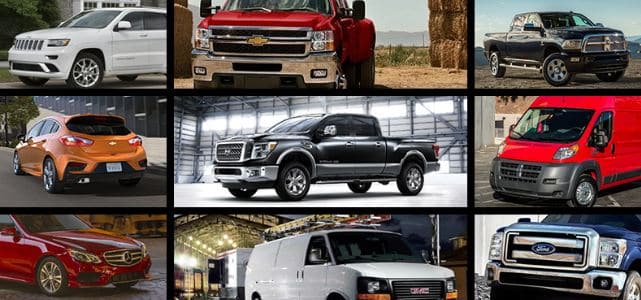 Diesel exhaust fluid must have a concentration of 32.5% urea and 67.5% deionized water by weight.
Diesel engines require pharmaceutical grade urea and not agricultural grade.  Another significant area is the use of de-ionized water. Without quality diesel exhaust fluid, operators risk critical failure to their diesel engines.
Best DEFs On Amazon
One gallon of is used approximately every 300 miles
A truck with a 20 gallon DEF tank can go up to 6000 miles between fill-ups
When used in an SCR system will reduce the levels of NOx emissions of those engines
---
ENGINEERED: For use in Selective Catalytic Reduction (SCR) systems on diesel engines
EFFICIENCY: BlueDEF diesel exhaust fluid is key to helping improve fuel economy by up to five percent
PROTECTION: Diesel exhaust fluid is non-toxic and safe to handle
QUALITY: Stable, colorless and odorless, and also meets ISO Standards 22241 for purity and composition
EFFORTLESS: Easily Inject the fluid into your exhaust stream with a specialized dosing module
---
Key Takeaways For What Year Trucks Require DEF
In 2007, diesel engine builders decided on selective catalytic reduction as the technology of choice to satisfy impending EPA regulations.
Diesel exhaust fluid became vital for the successful operation of emission controls. SCR systems resulted in better fuel economy. Engineers no longer had to focus on in-cylinder combustion processes to control nitrous oxide emissions.
Diesel engines and complementary systems work more efficiently and much cleaner with the implementation of SCR and diesel exhaust fluid. Hopefully, now you know which year trucks require DEF.