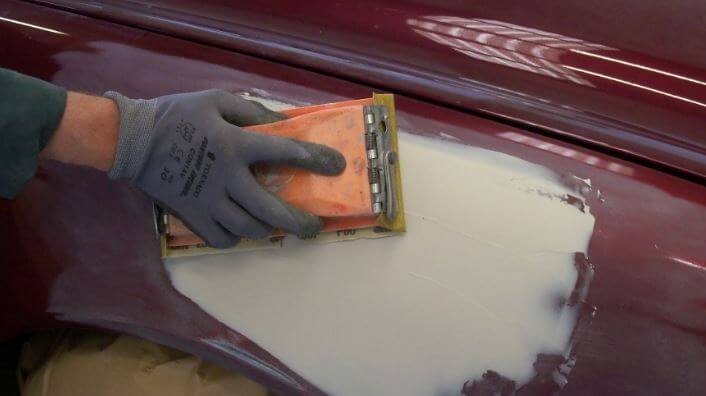 (Last Updated On: October 2, 2020)
Today's vehicles are made with thinner metal panes and a more complex body shape compared to the ones we had in the past which affected the damage repair procedure.
As an auto body fixer, the complications that you may face include things like small holes, door dings, hail damage, dents, depressions and creases among other things. 
Such damages can generally be fixed with body filler or/and putty. 
So, what is putty vs body filler?
Putty
Putty is a thick paint with a filler material that is used for filling marks, small scratches, holes, minor cracks, etc. It is normally used for very small scratches where the metal is not exposed. It is also applied before the final paint and allowed to air harden. It is not a structural material.
Body Filler
Body filler is a polyester resin that is more suitable for small dents; as well as to smooth curves and bends for custom work. However, you need to mix hardener into it to make it work. This is called chemical hardening in which 2 part hardener is added to the filler and mixed together. It is a cheap substitute for body solder, but it does not last very long in most cases. It is a structural material. So that's the difference in a nutshell. Auto body repair workshops have been using putty and body filler to fix bodywork damages and in carrying out auto restoration. 
Let's take a more detailed look at putty vs body filler:
So what is the big difference between body filler and putty?
First, let's take a look at body filler.
What Is Body Filler?
Body filler is a polyester resin-based filler that could be used to fix dents and conceal spots on vehicles. 
The nature of the body filler that will be used for your repair or restoration project will be determined by the scope of the project, the restoration type, and your preference.
Before adding putty or filler to your subject, you need to ensure that the area you're fixing is washed and dried.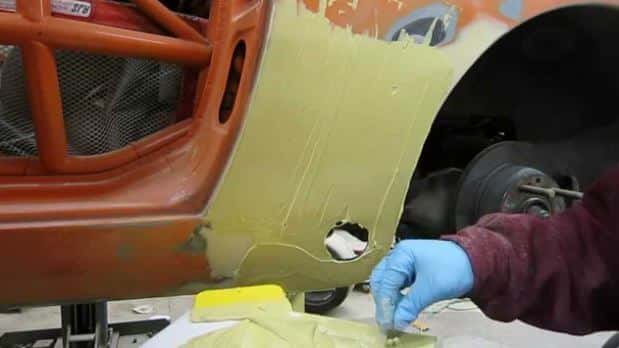 Fillers don't bond well with smooth surfaces so an in-depth sanding to the area is also vital. It is not recommended to fill a rusty area. 
In most cases, the filler could stain your subject which could be an issue as the chemicals within the filler are interacting with the automotive paint makeup. 
To decrease your chances of staining, do the following:
Choose a decent grade body filler
Use a quality primer when painting
Put a stop to fill work when humidity is high
Make sure you add an adequate quantity of hardener
Take your time to mix the filler thoroughly
Avoid trapping air during the handling process
Categories of Body Fillers
Body fillers are categorized into three
they are standard, mid-range, and premium. They are generally accessible in a two-part material which consists of a cream hardener and polyester resin.
The filler grade to be used on a project will depend on the extent of the damaged area that requires fixing. 
Standard Body Fillers
The Standard grade body filler is a lightweight material that easily spreads and cures within 20-25 minutes.
This type of filler is not to be used on galvanized steel, they are perfect for mending minor scratches and dents.
They sand easily and can blend in effectively with the rest of the vehicle once it is primed and painted. The standard grade body filler also offers minimum stain-resistance.
Medium Body Fillers
The medium grade fillers can be used on a variety of body surfaces due to its fiber-glass nature. It sands more easily than the standard body fillers.
It also adheres very well on most surfaces, and have better resistance to stain.
You can use it in your body shop to fix small repairs. It's perfect for fixing small holes, cracks and tears in fiberglass and metal.
Premium Body Fillers
These premium body fillers are made from high-quality resin which has the highest level of stain-resistance among the three. 
The easiest among the three types of body filler to sand down and provide the best adhesion of filler supplies to various underlying surfaces is the premium grade body filler type.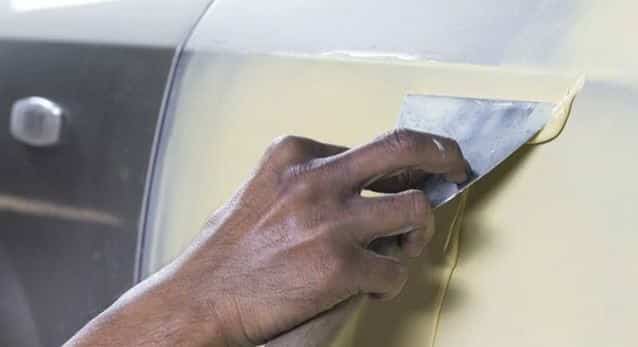 You can use this type of body filler when you have large areas or dents that you want to repair or whenever you want to make various filler application and sanding.
Premium body fillers cure quickly, level out flat, and are very easy to work with. They powder nicely and are likely not going to block the sandpaper.
If for whatever reason you want to get the side of a car flat and the body lines straighten up, this is what you should be using.
These premium body fillers are at the highest-end of the workability and durability range because they were designed to sand easily and last long.
Pro tip: The standard grade body filler is a remarkable option for fixing minimal hail damages and small rust areas, while the premium grade body fillers should be used for large surface areas or tears.
Tips and Tricks for Using Auto Body Fillers
To get the best results, you have to pay attention to the instructions on the packaging and combine the exact quantities of crème hardener and filler.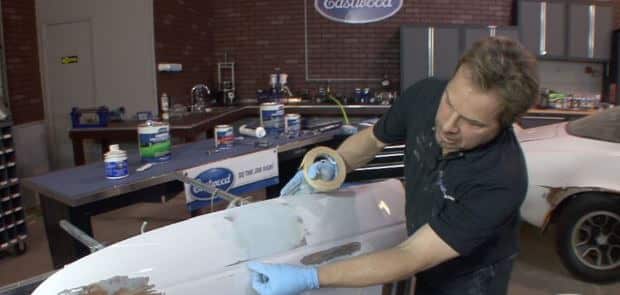 Pro tip: If you add too much hardener to little filler, the filler will become stiff and may likely crack. Similarly, if you add too little hardener, the drying and hardening process will be delayed almost indefinitely. You just have to get it right.
If you want to mix the hardener and the filler, use a non-cardboard mixing board Because of its leaky properties. Keep in mind that cardboard could affect the harmony of the filler. 
Pro tip: It is advisable to complete your filler projects on a warm dry day and not on a humid day so that the filler can cure faster.
Do not use filler on a rusty area. Try and remove the rusty spots first else, your project will be prone to discoloration and stain, and it will be difficult for the filler to adhere completely. To get the best results, get the rusty parts removed, then proceed. Filler adheres perfectly to non-smooth surfaces, so sand the area that requires improvement
Pro tip: You have to roughen the surface if you want to achieve the best possible results. Also due to its chemical make-up, you're advised to always wear a dust mask and stay in a properly-ventilated area whenever you're using filler.
Sometimes, your filler might feel as if it's hardening too fast during the application phase. You can avoid this by having a filler thinner (Sometimes called "Honey") beside you.
Now that you have understood what body filler is all about…
What Is Putty?
Putty, on the other hand, is a high plasticity material, similar to clay or dough. It is usually used in domestic repair and construction as a filler or sealant.
Putty  is basically a linseed oil-based merchandise that is used to fill holes, minor cracks, and destructions. 
When To Use Car Putty Filler
Putty filler is ideal for slight dents or repairs and is extremely convenient for small, quick repairs. Once you apply it to a ready surface, it cures swiftly.
Putty can be sanded with a fine-grade of sandpaper, thus making the surface to be straightened and ready for paint or primer with minimum preparation.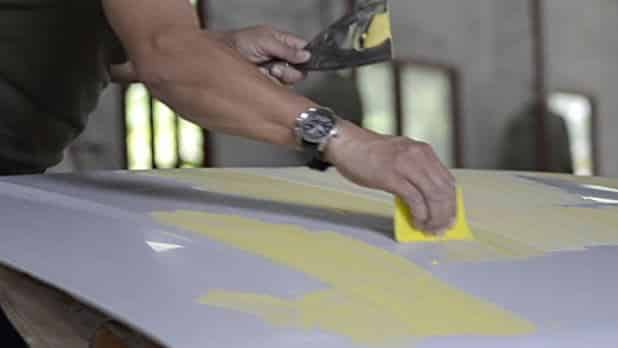 Putty comprise a fine grain talc ingredient which results in a tight grain finish and is what makes it the best finishing filler.
Today's body restoration putties are manufactured for easy sanding and this enables the user to achieve better results with less effort. 
A lot of Auto body shops have embraced two-part polyester putties as their primary choice for filling very small creases, dents, and body imperfections.  You can also use putty to achieve a very flat finish over thicker layers of filler. 
Like body fillers, body putties are usually two-part polyester inventions. A polyester base is combined with a hardener that cures quickly and makes it possible for you to sand the surface within 15 to 30 minutes, dependent on the air temperature and quantity of hardener used. 
Pro tip: For minimal pinholes – do not stir the hardener and filler when mixing. Make sure you fold the hardener into the filler and squeeze out the air pockets.
The next thing is to apply the substance in a smooth, even coat.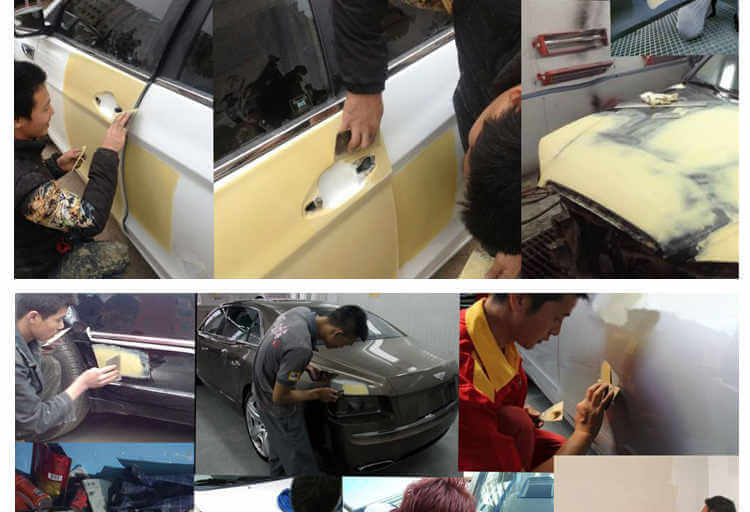 A good quality putty filler will adhere very well and shrink slightly as it cures, and furthermore, it will sand with no trouble to a thin, feathered edge.
You can use putty to fill minor imperfections such as sand scratches and pinholes, both of which will dry pretty quick. 
Pro tip: If you are using putty filler products, make sure you allow the product to cure completely before you begin the sanding phase. Also, if you have a situation where the product does not 'powder' when sanded, be patient and give it more time to cure.
The Bottom Line
As an auto engineer, your choice of body filler should depend entirely on the type of job at hand, your discretion and ability to carry out the repair with ease.
In truth, any grade of body filler can be used to make a repair, but as a true auto body mechanic, you should understand when to use body filler and when to use putty.
It's also significant to note that for a professional level of finish, you're advised to choose products dependent on the repair stage you are at or even the extent of damage involved.