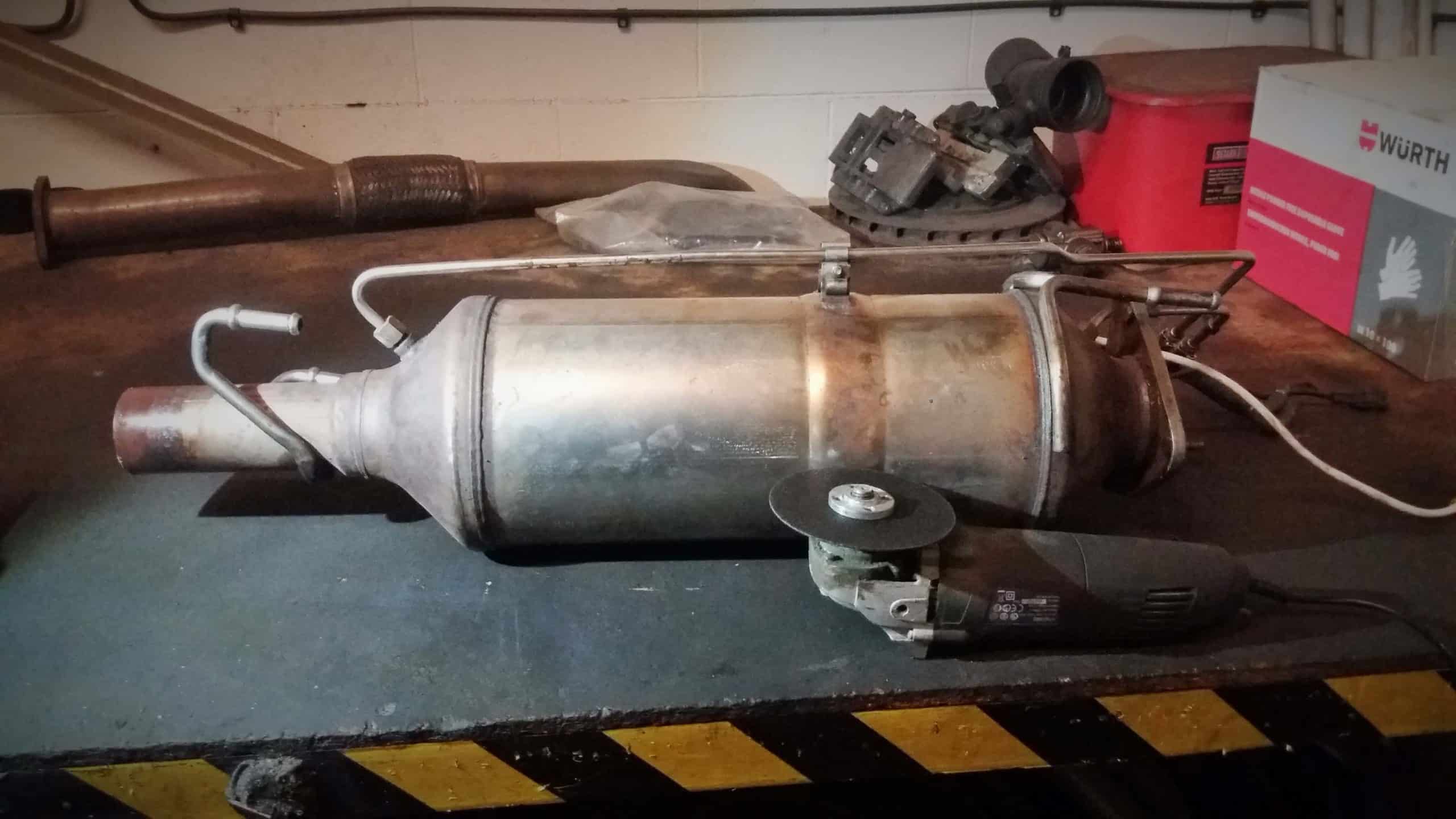 (Last Updated On: October 1, 2020)
Intro
So, what is the fine for removing DPF filter?
It depends on the specific case but it can run form a few thousand dollars to even millions. For example, a consumer truck owner found guilty of this offense will have to pay at least $2500 and up to $45,268 per truck. A larger company may be fined hundreds of thousands or even millions.**
Here is the specific fine from the EPA if you are caught with DPF delete:
Violators are subject to civil penalties up to $45,268 per non-compliant vehicle or engine, $4,527 per tampering event or sale of the defeat device, and $45,268 per day for reporting and recordkeeping violations.
If you have been wondering what the EPA fine is for DPF filter removal then you probably have been experiencing reduced performance and increased fuel consumption due to your DPF.
Let's take a deeper look into the advantages and disadvantages of having a DPF filter and the fines you may be charged if you remove it.
Check out this quick example below: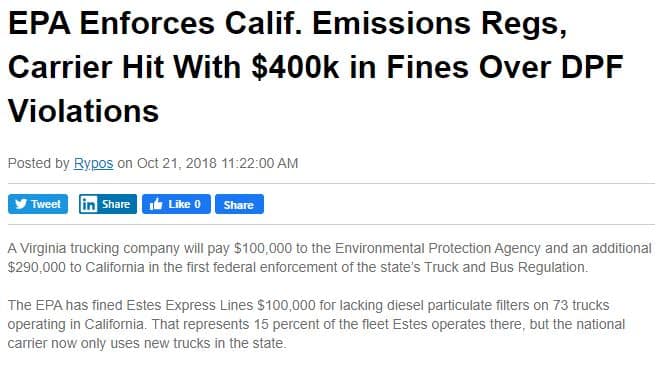 So, you may also be considering deleting your DPF but wondered to yourself what is the fine for removing your DPF filter?
At first, the Diesel Particulate Filter worked perfectly, filtering soot from the exhaust fumes.
However, after some time, the filter gets clogged and then has to re-enter the Re-Gen mode often to clean itself which is not only annoying but also costly.
In fact, if a Freightliner is in question, you may have tried to force DPF regeneration to no avail.
So why not just remove it? Why not utilize the DPF delete kits available and get it out to get more out of your engine? Here is why it is a significant risk on your side:
The Law Regarding DPF Delete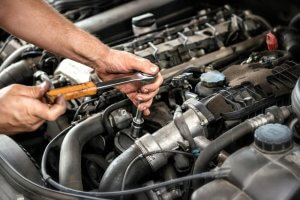 What do you need to know if you are caught with DPF delete?
Well, according to Section 203 of The Clean Air Act, it is illegal to tamper with, remove or be involved in the deletion knowingly or unknowingly of the DPF system of a truck.
What this means is that you may face penalties under the law will for not only the removal but also the physical alteration of the DPF.
Furthermore, it is also illegal to use a DPF removal service provider to do this for you.
On the EPA fine, you need to note that it varies depending on several things including:
The intent to remove or tamper with the DPF
The weight of the vehicle
The miles covered
Your income
So, what is the fine for removing DPF filter? How much will you be charged if you are caught with DPF delete? Well, as an example, a consumer truck owner will have to part with at least $2500 per single truck while a large company will part with hundreds of thousands or even millions. For instance, a carrier in California was hit with a $400,000 fine due to DPF violations.
The Law
Section 203(a)(3) of the CAA makes it unlawful for: "(A) any person to remove or render inoperative any device or element of design installed on or in a motor vehicle or motor vehicle engine in compliance with regulations under [Title II ofthe CAA] prior to its sale and delivery to the ultimate purchaser, or for any person knowingly to remove or render inoperative any such device or element of design after such sale and distribution to the ultimate purchaser;
or (B) for any person to manufacture or sell, or offer to sell, or install, any part or component intended for use with, or as part of, any motor vehicle or motor vehicle engine, where a principal effect of the region or segment is to bypass, defeat, or render inoperative any device or element of design installed on or in a motor vehicle engine in compliance with regulations under this subchapter, and where the person knows or should know that such part or component is being offered for sale or installed for such use or put to such use." 15.
EPA may assess a civil penalty of up to $3,750 for each applicable CAA violation that occurred between December 6, 2013, and November 2, 2015, and up to $4,527 for each applicable CAA violation that occurred after November 2, 2015 and assessed on or after January 15, 2017 in accordance with Section 205(a) of the CAA, 42 U.S.C. § 7524(a), and 40 C.F.R. Part 19.
Why Does The Law Restrict DPF Delete?
Air Pollution
But why charge such hefty fines for just removing the DPF? What is the big deal with the DPF?
To understand why the government is that serious, you need to understand pollution. According to EPA, over half of all the air pollutants in the US come from mobile sources. But how does your truck then pollute the air?
When your diesel engine is running, combustion results in two main pollutants in the exhaust fumes. They pollutants are:
Nitrous Oxides
Diesel Particulate Matter or simply soot. These two pollutants are the reason behind the concerted efforts to enforce the installation of systems that control these emissions.
How then are they controlled?
Emissions Control
Over the years, there has been the development of systems to control emissions starting from 2001.
The first system was the EGR (Exhaust Gas Recirculation) which recirculates the exhaust gases through the combustion chamber allowing them to be fully combusted and hence rid the exhaust fumes of the pollutants. It, however, lowers the efficiency of the engine.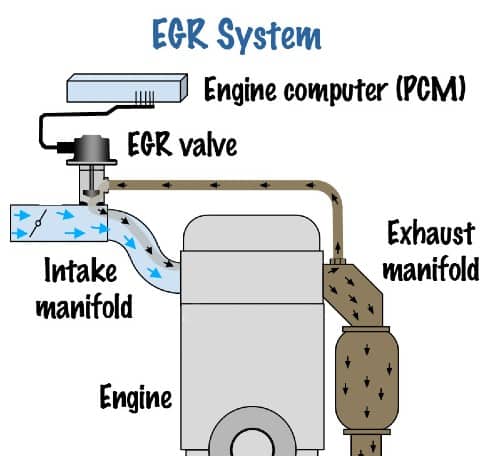 The next development was the Diesel Particulate Filter (DPF) enforced in 2007 that is a system of filters that filter out Diesel Particulate Matter.
However as the system works overtime, it gets clogged and hence building back pressure that will reduce the efficiency of the engine and cause higher fuel consumption.
The truck system detects and enters the Re-Gen mode to clean the filter which may be pretty annoying as it may limit you to 5mph when driving or fail to start in case the engine is off.
The next system was the SCR (Selective Catalytic Reduction) that works in conjunction with the DEF (Diesel Exhaust Fluid).
The DEF contains ammonia that gets to the SCR chamber and reacts with the nitrous oxides to produce water and nitrogen that are very safe.
DPF Violations Examples: Companies Caught With DPF Delete
Here are some examples of fines following DPF violations:
EPA enforces California emissions regulators charges carrier $400k in fines over DPF violations: A Virginia trucking company was charged a sum of $100,000 to the Environmental Protection Agency and an additional $290,000 to California for DPF violations.

EPA, Edge Products charged $500,000 for DPF violations: EPA, Edge Products, a manufacturer of electronic power modules for diesel engines was charged a $500,000 fine for manufacturing and selling electronic devices that allowed owners of Chevy, GMC, Ford and Dodge/Ram diesel pickup trucks (2007 and later) to conduct DPF delete.

Derive Systems fined $300,000 for DPF violations tuning software The EPA fined Derive systems a total of $300,000 for selling tuning software that allow DPF violations and therefore in violation of the Clean Air Act.
Alternatives to DPF Removal
Now that you know why the DPF system is essential and why it is illegal to remove it, what are the other options?
The goal is to get your diesel engine performance higher and get some extra horsepower without tampering with the DPF.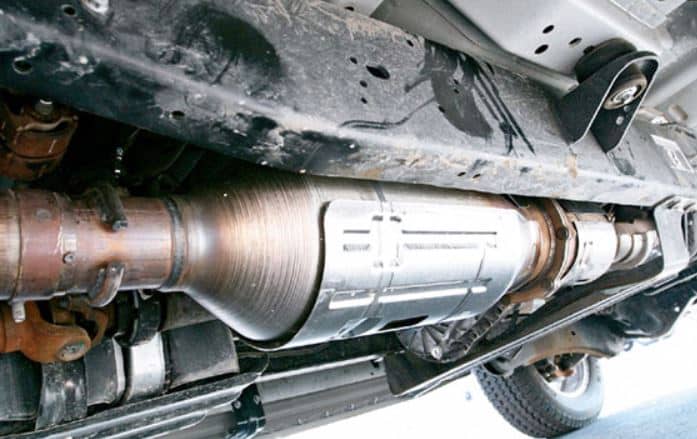 You can always attempt DPF regeneration yourself before going to DPF delete. Otherwise, there are upgrades available at garages that will get this done and are DPF-friendly.
You will be able to get the performance you need, the fuel efficiency desired and not be on the wrong side of the law.
List of Companies Fined By The EPA (Updated 2020)
The EPA publishes a list of the fines it has issued to companies within the year. Only the names of companies are released, individuals are often spared from the public 'disparagement' but not always. Here is a list of some of those companies and the fines they were ordered to pay:
Volkswagen: As the primary manufacturer of diesel-powered passenger vehicles there are multiple lawsuits against Volkswagen by government agencies. One such example is $108 million in the State of Illinois.
Detroit Diesel Corporation: $ 14 million civil penalty.
GoPlus Corp: $17,600 penalty.
Ryan's Diesel Service LLC: $19,950 penalty.
Edgewater Four Wheel Drive, Inc: $14,247 penalty.
Mr. Si Sun of Ricky Power Sports LLC: $5000 penalty.
Schuch Heavy Lift Corp: $32,000 penalty.
Rathbun Musser Inc: $16,500 penalty.
Mr. Victorio Monarrez: $1,200 penalty.
Bandit Industries Inc, : $3 million civil penalty.
Husqvarna AB: $2.85 million civil penalty
Freerksen Trucking Inc.: $37,500 civil penalty
Moke America: $8,900 civil penalty
New Flyer of American Inc.: $575,000 civil penalty
Edge Products: $500,000 settlement agreement
Conclusion
Ask yourself, do you want to live in fear that you'll publicly be defamed for not following the law on emissions technology?
Look for better alternatives and preventive maintenance strategies such as Hot Shot's Diesel Extreme Additive for better DPF performance.
The Diesel Particulate Filter system effectively prevents diesel particulate matter from escaping and polluting the environment. That is why the EPA will charge you fines from $2500 for each consumer truck whose DPF is tampered with or removed.
The penalties are higher for companies depending on their income and intent. So instead of risking breaking of the federal law, get your favorite dealership or garage and let them do DPF-friendly upgrades for you. Follow this advice and Do Not DPF Delete!