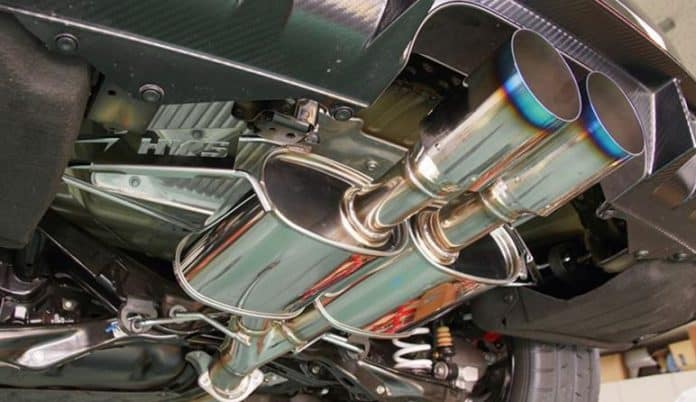 (Last Updated On: October 6, 2020)
Intro
Welcome to another performance muffler showdown! Borla vs Flowmaster - which performance exhaust is better? There are several performance mufflers out there with Flowmaster and Borla being two of the oldest, most trusted, and most popular brands.
So, as you can imagine, it can be a difficult decision for many people. Both bring something different to the table whether its a different sound, more efficient flow, or greater horsepower.
Some say Flowmaster is better, others say Borla is better, let's discuss Borla vs Flowmaster so you can make the best choice.
What Are Borla Exhaust Systems?
Borla (Borla Performance Industries) has been around for decades now - around 4 decades to be exact. The easiest way to know a Borla muffler is by its pitch.
In general, Borla mufflers have a lower and deeper rumble tone than other popular performance exhausts sich as Flowmaster or Corsa.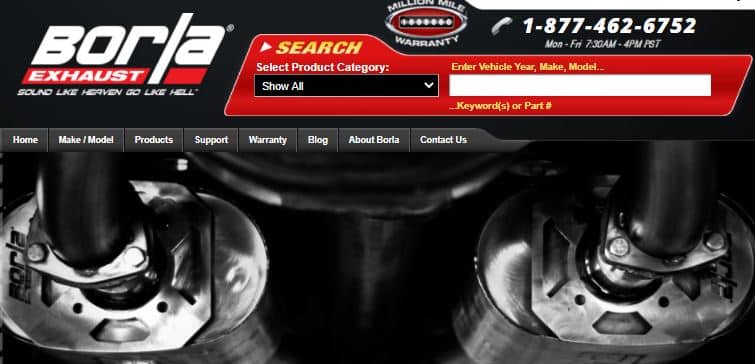 Borlas are rather popular for this deep, rich rumble that many performance racers and stunt drivers crave.
In some cases, they can be raspy as well.
The Benefits or Advantages of a Borla Exhaust System
Borla makes some of the finest exhaust systems available on the market. As mentioned before, Borla exhausts are excellent for a deep rich sound for those who crave it.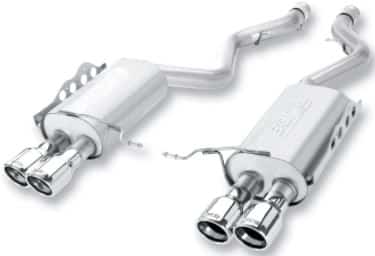 Here are some additional benefits of using Borla exhaust systems:
Experience: With over 40 years of experience, Borla is very good at making high-quality exhaust systems.
Durability: Borla exhaust systems use performance parts made from T-304 stainless steel. This makes them very durable and strong enough to survive harsh conditions.
Power: Borla exhaust systems ensure that they mandrel bends their exhaust systems so that they can achieve maximum horsepower gains.
Sound: Borla exhaust systems produce a great grumbling and fierce growl! If you want to intimidate the competition, Bola is the way to go!
Rapid Exhaust: Borla manufactures exhaust systems with advanced, mufflers that ensures rapid exhaust flow and almost zero backpressures.
Variety: Borla manufactures a wide variety of parts for the exhaust system including the muffler as well as exhaust tips and headers.
What Are Flowmaster Exhaust Systems?
The major benefit of Flowmaster (Flowmaster - The Muffler and Exhaust) is the cost. Most Flowmaster mufflers are easy on the wallet.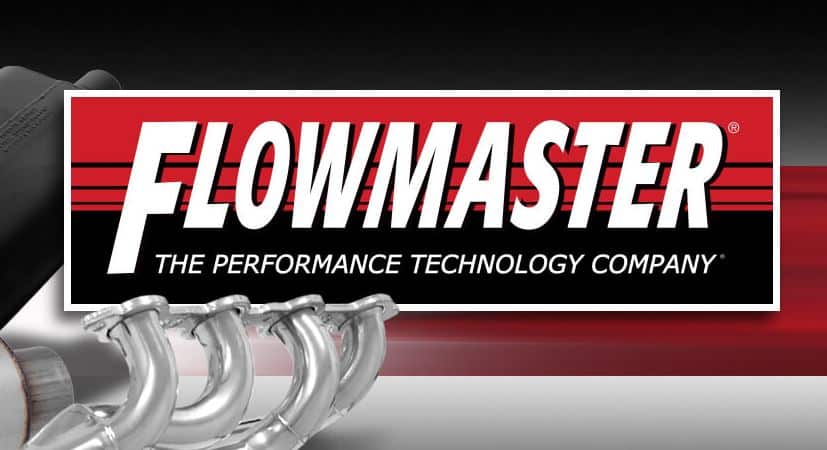 These budget options don't really bring the rich, low tones that Borlas offer. It's more about an aggressive and loud sound that will burst from just about any car you put a Flowmaster on.
The Benefits or Advantages of a Flowmaster Exhaust System
Flowmaster has done well for itself in the performance exhaust industry. Here are some advantages of Flowmaster exhaust systems:

Powerful Sound: The mark of a true Flowmaster system is its unmistakable sound. These exhaust systems produce a loud and heavy growl. They even purr heavily when the engine is idle.
Design: Flowmaster is well known for its innovative muffler designs. In many cases, Flowmaster mufflers are custom-crafted for a perfect fit on your vehicle type.
Durability: Using innovative designs and high-quality materials, Flowmaster makes some of the best exhaust systems. Their systems are build from long-lasting materials.
Borla vs Flowmaster Pricing
Borla exhaust systems are generally more expensive than Flowmaster. Many people will tell you that Flowmaster is all about cost-effective exhaust systems.
What Are The Most Important Features of Borla vs Flowmaster
While both Borla and Flowmaster are excellent options, your final choice really comes down to what features of the exhaust system are important top you. If you are looking for power and that awesome rumbling sound, Borla is a great choice.
On the other hand, if you are seeking a cheaper yet high performance and durable exhaust system with an excellent design and powerful burst of sound, Flowmaster is a great choice.
What's the Best Exhaust System for You?
As you have seen, there are quite a few things to consider when choosing between performance mufflers like Borla and Flowmaster.
Your considerations should include your vehicle type, your budget (of course), as well as the sound output and overall look you are seeking.
The truth is, both Borla and Flowmaster look great, offer huge performance gains with an excellent sonic signature to boot.
However, it's not about which is better Borla vs Flowmaster, it's about which is better for you and that depends on what you are looking for.
So, regardless of whether you opt to go for a Flowmaster like the Flowmaster American Thunder exhaust or a Borla like the Borla Cat-Back Exhaust, either will be a great choice as a performance exhaust system.
Conclusion
If you are currently shopping for a performance muffler, make sure you check out the comparison we stated above and read the reviews.
We truly hope you'll find the right exhaust for your needs - whether is Borla or Flowmaster.