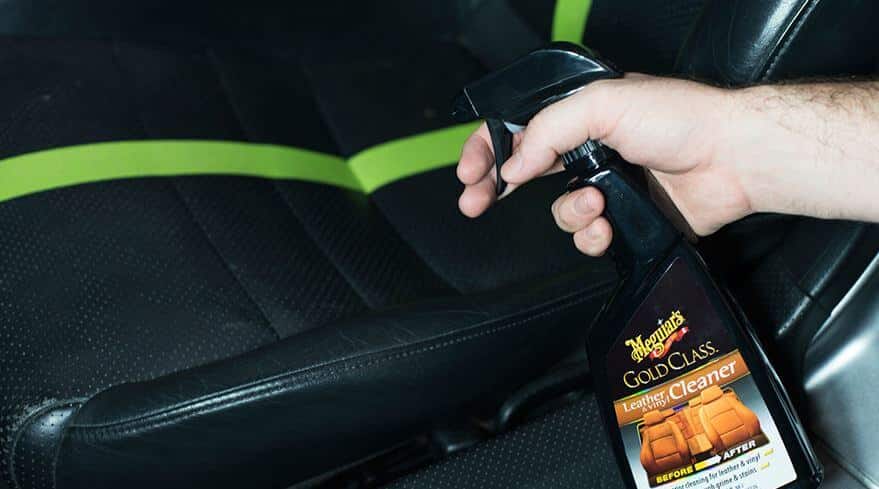 (Last Updated On: September 29, 2020)
Faux leather, poromeric leather, synthetic leather, leatherette, "Pleather" or whatever name you want to call it, it's all artificial leather.
You can find pleather everywhere. It isn't that expensive compared to leather, it looks and feels almost the same, and best of all, it is ethically obtained.
One of the added benefits of Faux leather is that it is much easier to clean and maintain than its natural counterpart!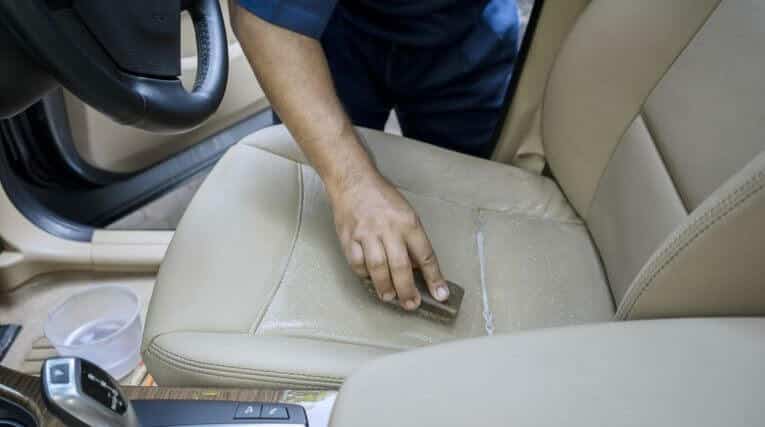 In recent times, pleather has been wanted by a lot of people thus pushing various manufacturers to utilize it as upholstery, fabric,  clothing, or to make amazing crafts.
Nonetheless, the rising cost of leather and the ever-increasing consciousness of animal cruelty standards has luckily paved the way for the growth of a fabric that looks very much like genuine leather but is man-made.
Pleather or Synthetic leather is a more animal-friendly or cost-effective substitute to the real deal. It has nearly all the same potentials of genuine leather.
Introduction to Cleaning Pleather Car Seats
The question of how to clean pleather car seats is rather common. Cleaning and maintaining pleather seats can be stressful if you are not ready for the task.
There are numerous cleaning techniques and products, but you can't afford to damage your pleather car seats.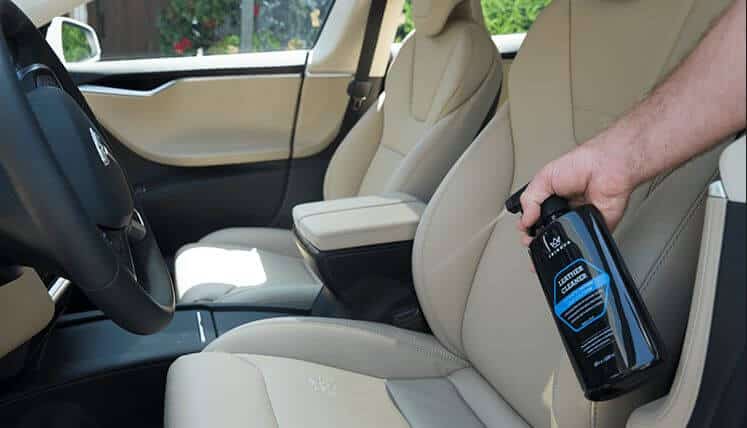 Here you will find the most complete guide online regarding how to clean pleather car seats.
In this guide, we will go over the various types of pleather fabric, reasons why pleather might wear off easily, the best methods of cleaning pleather car seats, and how to condition your car pleather seats, and then some tips on how you can easily do maintenance.
It gets better…
We have included our secret method of cleaning pleather car seats.
How to Clean Pleather Car Seats
There are several ways you can clean your pleather car seats, from mild to aggressive. In most cases, you won't require anything other than a towel and some cleaning detergent.
We would counsel you on the more forceful methods for stubborn stains.
Essential Tips To Keep In Mind While Cleaning PLeather Car Seats
Clean Sections At A Time: The first rule of how to clean pleather car seats or how to clean leatherette car seats is to always clean small sections at a time.
This guarantees that if you're using a cleaning agent that could damage or discolor your pleather, you're curtailing the damage.
Dont Let The Solution Dry: Don't let the cleaning solution dry up. After scrubbing each section, clean it out with a microfiber towel.
During the cleaning exercise, all the filth is in the solution after you've finished scrubbing. By allowing it to dry off, you've allowed the solution to sink back into your pleather car seat.
Vacuum: The best idea is to vacuum your pleather seats first.
Vacuuming helps to remove accrued dust, which functions as an abrasive, between the edges of your seats.
Use an exceptional attachment for upholstery. Ensure that the attachment is made from plastic so it doesn't scratch your pleather.
Cleaning Pleather Car Seats with Domestic Products
Now, about the cleaning solutions. If you're looking at household products or something without chemicals, then we endorse this.
You can build your own cleaning agent via water and vinegar:

One part water

Three parts vinegar
Most people recommend two parts linseed oil and one part vinegar. Nonetheless, both solutions are fantastic pleather cleaning agents.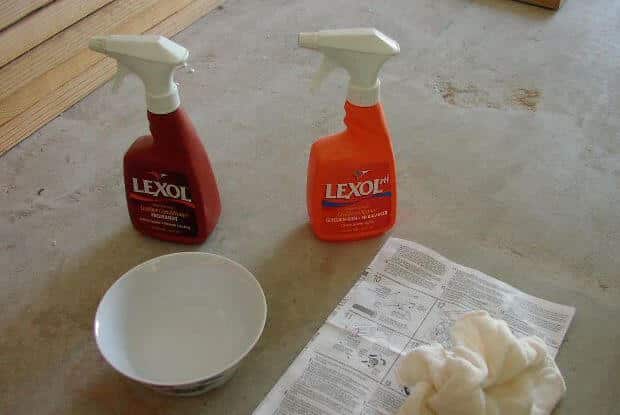 Before cleaning your seats with these cleaning solutions, carry out a spot test: spray a small amount of solution on a portion of your seat and clean it off with a towel to make sure it doesn't ruin your seat.
Using Commercial Products to Clean Pleather Car Seats
Let's say you don't want to use homemade cleaning solutions, you could purchase a steadfast cleaning solution or an all-purpose cleaner.
More Ways to Clean Pleather Car Seats
It is advisable that you go from the slightest aggressive method to the most aggressive whenever you want to clean your pleather car seats.
The Light Pleather Cleaning System
This's the slightest aggressive method for cleaning your seats.
The requirement:
A microfiber towel
cleaning solution
Spray some cleaning solution on the area you want to clean and then clean it using moderate pressure.
If you're someone who cleans your car monthly, this method should keep your car pleather seats clean. If it doesn't work for you, try the next one.
The Painter Cleaning System
For this cleaning technique, you will need a big paintbrush or scrub brush.
If you're making use of the paintbrush, cut the hairs so they are about halfway through to enable it clean better.
Spray some cleaning solution on the area you want to clean and then use the brush to scrub it using moderate or mild pressure.
Make use of circular motions as you scrub
After you're done scrubbing, wipe off the solution using a microfiber towel as you apply moderate pressure.
This works 90% of the time. If it does not work for you, perhaps it's time to use the big guns.
The Steaming Leather Methodology
This is the final method you can try at home.
It's one of our finest-kept secrets.
You'll need a steamer.
Why a steamer? It works better than warm water as it helps to exfoliate the seat.
Spray some cleaning solution on the area.
Put a microfiber towel over the steamer and use it to clean the seat.
Use moderate pressure.
What is the bottom line? Have it in mind that you need to be tender while cleaning your car leather seats. Consistent cleaning will considerably increase the lifecycle of your car leather seats.
How to clean punctured car leather seats?
For pierced seats, the procedure is similar.
If your car seats have heating, don't spray the seat, spray the cleaning solution on your towel instead.
Use the towel to clean your car seat.
After the cleaning, use a dry towel to wipe the solution.
If you're scrubbing your seats, spray the cleaning solution on your brush.
After you've finished scrubbing, dry the solution using your towel.
If you think some cleaning solution may have leaked through your pleather seat, turn on the heating to dry it up.
Best way to Preserve Pleather Car Seats
Like we said earlier, to ensure healthy car seats, you need to protect the pleather.
You might want to clean your car seats monthly and apply some conditioner.
It's better to spend a little time every month cleaning your car seats than to purchase new seats every few years. Sunlight can also fade the color of your seats and damage the pleather too.
For your car to be in good physical shape, keep it in the shade or in a garage.
Add conditioner for a lenient feel.
Continue reading to know why you should be using a conditioner.
How to Condition Car Seats
Pleather conditioning is recommended as an add-on to your cleaning.
Conditioning helps to keep your seats from becoming stiff. It also retains the color of your car seats.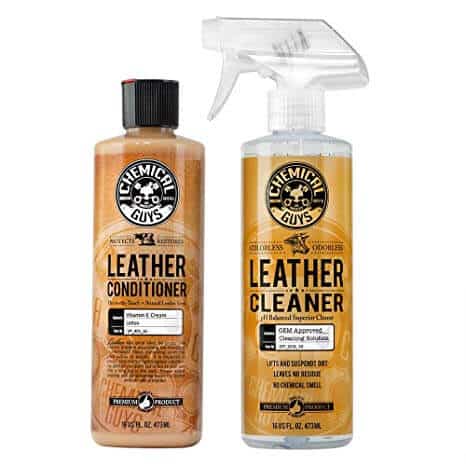 This is one of our ways of making pleather car seats look brand new.
Before you apply a conditioner, follow these few steps:
Make sure the pleather is thoroughly dry before you condition it.
Don't be scared of adding so much conditioner, just make sure you wipe off the extra with your towel.
Allow the conditioner to stay for 20-30 minutes
Use only products that are reliable
Perhaps, you're wondering…
How frequently should I condition my leather seats? You should condition it every 3-5 weeks, particularly if you want to circumvent cracks in the leather. This is the best way to maintain your car seats in the long run.
Types of Pleather fabric
Plastic Leather
This is one of the most commonly used synthetic leather manufactured from plastic. In preparing this category of leather, a fabric is enclosed with a coat of plastic.
It looks and feels like glossy leather. Plastic leather is a durable substitute to leather itself. Unlike pure leather, it doesn't fade. It's quite strong and long-lasting.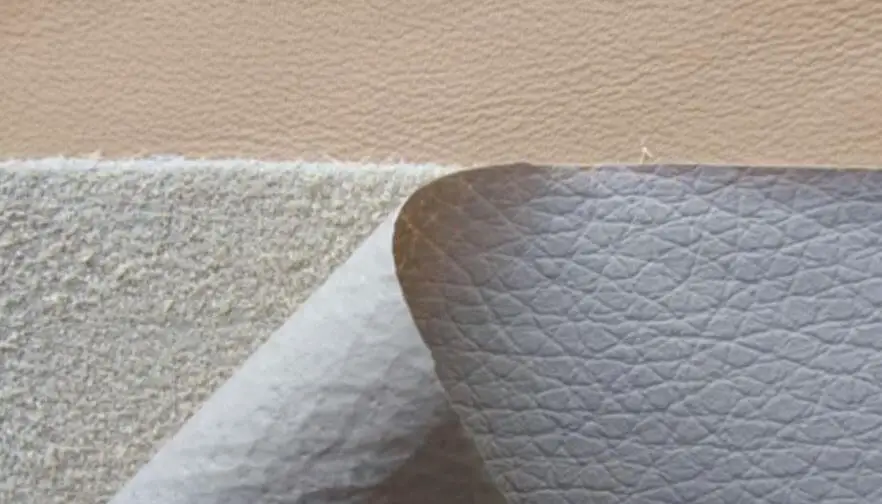 Poromeric Leather
This is quite comparable to plastic leather in the way it is prepared. It's an amalgamation of various synthetic fabrics, to produce one that feels and looks like genuine leather.
It includes a layer of polyurethane, which is covered over a layer of polyester fabric.
The end product is absorbent and has a smooth sheen to it. It's durable, just like genuine leather. It is also an enormously breathable textile.
Leatherette
This is another kind of synthetic leather that uses fabric and plastic. Nevertheless, in this case, the fabric could either be natural or synthetic.
It's very strong and needs little to no upkeep. It doesn't fade easily as well, as opposed to genuine leather. It's commonly used in various cars today. In the early days, it was used for cameras and in bookbinding.
Causes of Quick Pleather Wear
If you are asking how to clean pleather car seats after just a few days of use, you may want to question whether you are giving the material proper care. Pleather has the tendency to wear out fast if it does not receive the attention and care it requires.
Before we go into how to clean pleather car seats, we will look at what makes pleather wear out fast.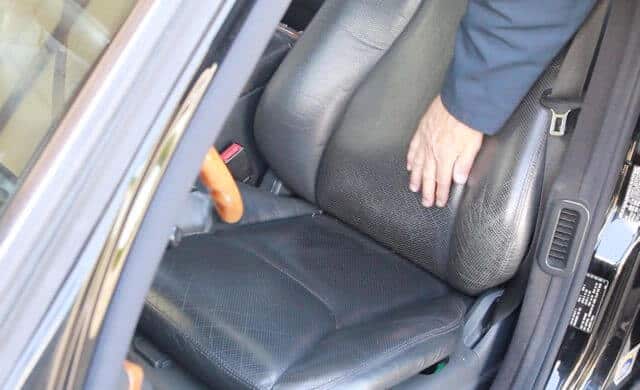 Normal Tear & Wear
One of the reasons your driver seat looks messy is because it's the most frequently used. Each time you get into your car, you scratch the backrest and in most cases the armrests. With time, entering and exiting your vehicle on a regular basis can produce cracks if you fail to maintain and clean your seats. However, this is considered by many as normal wear and tear and can't be easily avoided.
Dirt helps to wear leather down fast
Dirt will surely get into your car, you can only minimize and clean the mess.
It gets worse…
Dirt is usually abrasive towards leather.
This can lead to color fading and cracks as time passes.
This is why we recommend that you clean your car pleather seats monthly and do a thorough cleaning at least 2-3 times yearly.
Sweat and Body Oils
This is another obvious cause of pleather wear
As you drive, you might sweat and these juices get absorbed in your pleather. With time, this will diminish the life expectancy of the pleather.
The plastic leather ought to have a matte look. The shine visible in your pleather seats come from sweat and body oils.
Spills
Accidents can occur. You or someone may drop food or a drink and don't clean it up properly, however, if you would like your pleather to be in top shape, clean up as soon as it spills.
Now…
The part everyone has been waiting for:
You'll learn the best ways to condition and clean pleather car seats.
The History of Faux Leather
Faux leather was first intended as a substitute leather for upholstery. Some early pleather were manufactured with a web of "calico" textile, mixed with pigments and coated with boiled linseed oil.
Furthermore, they were then coated, spread over cotton, and hard-pressed with rollers. Finally, It passed through numerous embossing rollers so it can have a detailed grain.
Pleather
Pleather can be separated into two main resources: polyvinyl chloride and polyurethane. The dissimilarity between the two is that Polyurethane can take various kinds of forms, but when solid and overextended to take the shape of fabric, it reveals its rubbery feel.
In contrast, polyvinyl chloride (PVC) is the third-most extensively manufactured synthetic plastic polymer globally.
Pigments and additives are added to polyvinyl chloride during its production phase so it will look like leather.
Those pleather car seats you're looking at are probably made from a mixture of these two resources above. Pleather is usually used in producing upholstery, clothing, fabrics, and footwear.
Is Pleather Same As Leatherette?
The quick answer is that they are pretty much the same thing – fake leather. They are both either made from vinyl or leather that has been texturized to look like leather.
It's important to note that pleather is a general word for fake leather and leatherette normally refers to a type of pleather.
However, leatherette is an older word for fake leather, dating back to the 1950's while pleather is a more modern word, especially as it relates to clothes.
So, asking the question how to clean pleather car seats is pretty much the same as how to clean leatherette car seats.
Conclusion
So there you go, the complete answer to the question of how to clean pleather car seats or how to clean leatherette car seats. Pleather car seats are a necessary addition one can add to their car. They feel and look great!
If you maintain and properly take care of your pleather car seats, they will last for a very long time, probably the same life cycle as your car.
With any luck, we hope you have learned a great deal from this article on how you can keep your pleather car seats in perfect condition so it stands the test of time.
Thanks for reading and do share your feedback so we can know how easy or difficult it was for you in cleaning your pleather car seat!