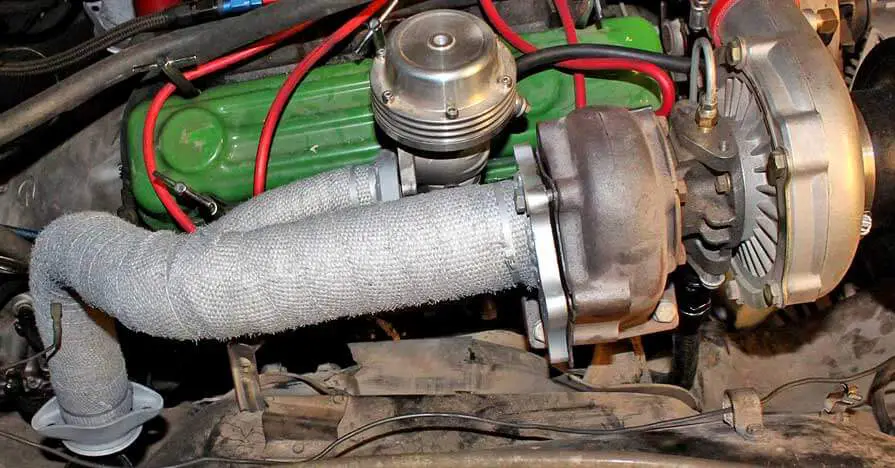 (Last Updated On: June 6, 2020)
Most engines operate at high temperatures.  Think about it, fuel burns at almost 600 Degree Celsius. To achieve greater engine efficiency, some people choose to trap the high temperatures within their exhaust pipes by coating engine exhaust pipes with some solid thick exhaust wraps which channels all the heat through the exhaust. For this purpose, several dense covering sheets were introduced in the market. Talking about such energy insulating wraps, Titanium Exhaust Wrap and Fiberglass are the most famous ones. What is Titanium Exhaust Wrap vs Fiberglass? Why they are so much in use these days? What kind of pros and cons they have?
Titanium Exhaust Wrap
A Titanium Exhaust Wrap is made from tiny fine crumbles of lava rock and fabricated into a fiber material. These wraps are excessively used for preventing exhaust pipes from dissipation of heat energy to the engine. They are highly insulated sheets and engineered in a most technical and beneficial way.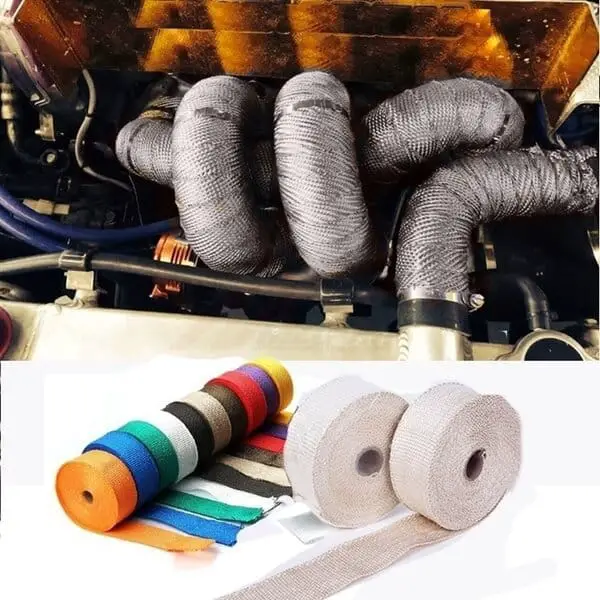 Why is it so important to use Titanium Exhaust Wraps? Well, we already mentioned they are used for the prevention of heat loss from the exhaust. Mainly it is used to maintain the exhaust temperatures of engines by keeping them hotter inside the engine and not letting them cool down too fast which means the exhaust gases progress more efficiently. This increases the performance of the engine and thus gives more output energy in horsepower.
Another important beneficial feature of Titanium Exhaust Wrap is that it perfectly conceals the high-temperature pipes of engines and doesn't leak the heat which not only keeps the driver's legs safe but also other vehicular parts are prevented from heating up.
Fiberglass Exhaust Wrap
On contrary to this, a Fiberglass is a plastic fiber which is made up of glass strands that are pressed and woven into each other by using an adhesive material. It is also used for preventing the engine from its heat loss. And not only this, but it also helps in structural performance and new design options.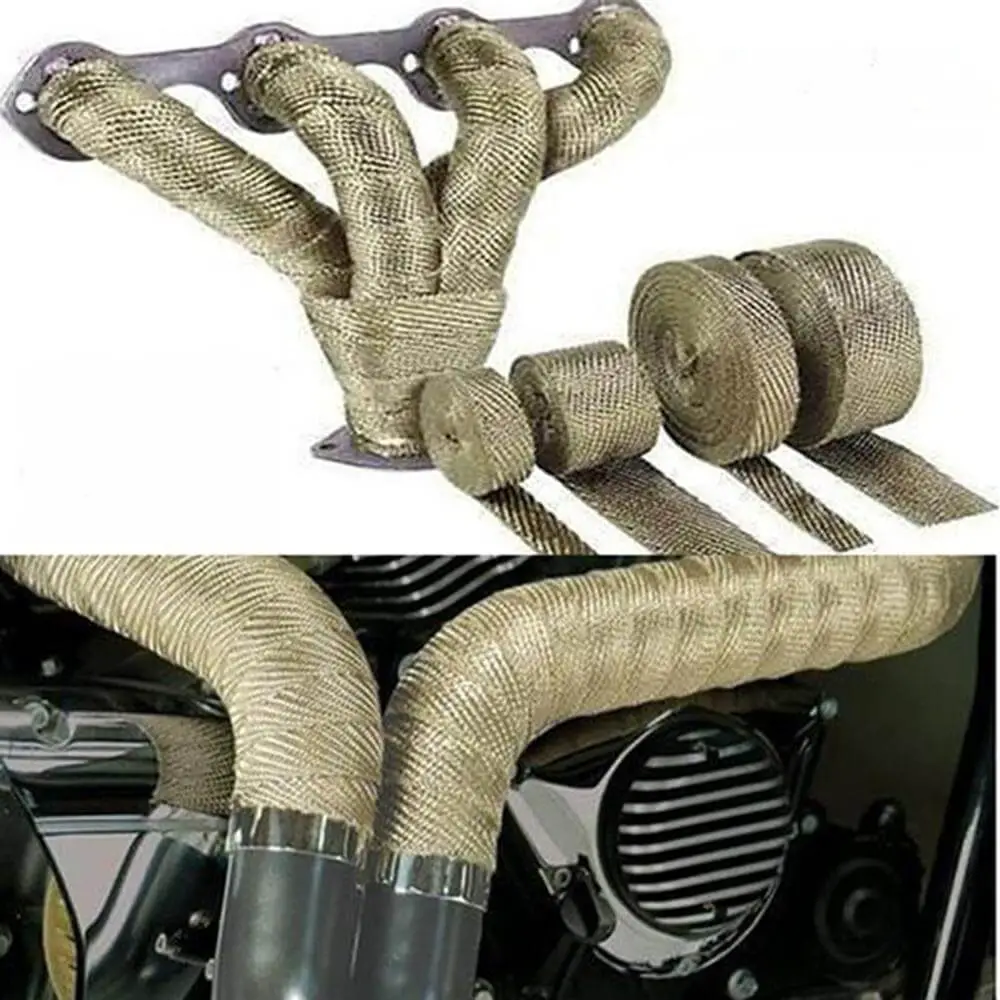 So apparently, Fiberglass can be used for multiple beneficial purposes and it is not restricted to some definite applications.
Titanium Exhaust Wrap vs Fiberglass: Which one is Better and Why?
If we contrast these two wraps, we can trace down many different features between the two of them. They have their own pros and cons by which we can easily deduce that which one is better and why.
Materials: If we consider Titanium Exhaust Wrap first, then it is the most-in-use product and highly in demand these days in the market. The reason is that it is made up of a thick sheet of pulverized lava rock. On the other hand, fiberglass is made up of some plastic fiberglass material and its building components are different from Titanium Exhaust Wrap.
Durability: The foremost difference between the usage of two wraps is that, as Fiberglass has got a different composition from Titanium Exhaust Wrap so their wearing out tendencies are different from each other. Observing the bending and disposition tendency of both wraps, Titanium Exhaust Wrap is considered to be superior on Fiberglass because it is much stronger and penetrating and thus can bear many varying environments before rusting or decaying out.
Installation: Another difference comes up when you coat and install these wraps on your engine pipes or exhaust. Their installation process requires several steps and guidelines among which one of them is to wet the wraps before installing so that they can become soft and can easily be installed.
For this purpose, Fiberglass requires more water and spray moisture in order to make it convenient for the user to install it. But in contrary to this, in some cases, Titanium Exhaust Wrap comes up with a slight coating over its layer so it doesn't require much moisturizing like in the case of fiberglass.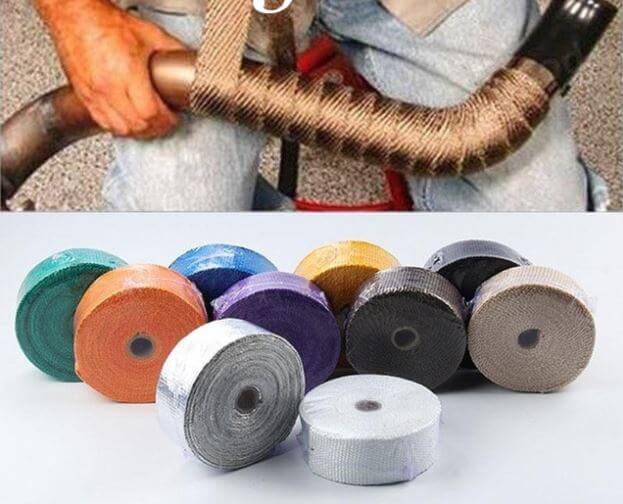 Cons: Coming towards the cons of these two wraps, Fiberglass has a 'possibility' of causing user some cancerous effects.
As it is primarily made of plastic material and then it is used for controlling heat, then not only during its installation process but also when it is being used, tiny silver particles are inhaled or come in touch with the skin of user which can affect him in many ways. But as compared to this,  Titanium Exhaust Wrap doesn't seem to be as injurious as Fiberglass.
Aesthetics: Lastly, the most apparent and important difference between them is that fiberglass is not as aesthetic as a Titanium Exhaust Fiber can be.
Depending on the user, he can easily spray to change their colors but fiberglass doesn't seem to be more eye-catching than Titanium Exhaust Wrap.
Verdict: All these reasons stated above tell us that why Titanium Exhaust Wrap is better than Fiberglass though Fiberglass is more multipurpose because unlike Titanium Wrap, its usage is not restricted to engine pipes or exhausts only. It can also be installed in the ceilings and walls of houses in order to restrict the sun heat from getting into the house.
Importance: In the end, no matter how many comparisons we construct between two of them, each one of them has their own perks and work in their own beneficial patterns.
The main advantage of using these wraps is they not only prevent other vehicular parts from heating up, but they also reduce engine fuel busting noises and thus causing a much lesser disturbance. So, no doubt using these wraps is an optional choice of the user, they play their own important roles which can't be ignored or denied.
Best Titanium and Fiberglass Exhaust Wraps On Amazon
Titanium Exhaust Wraps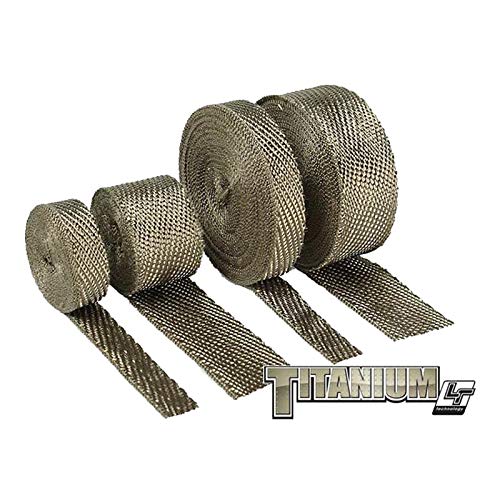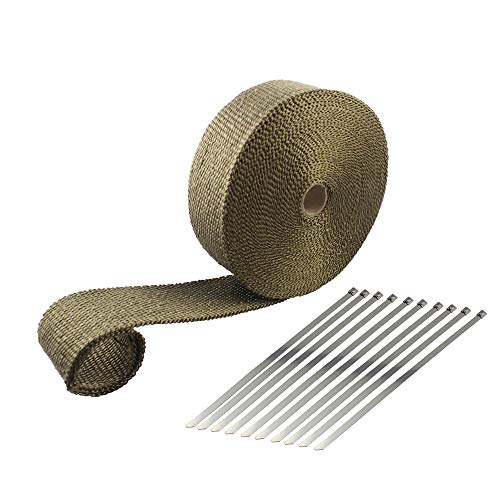 Fiberglass Exhaust Wraps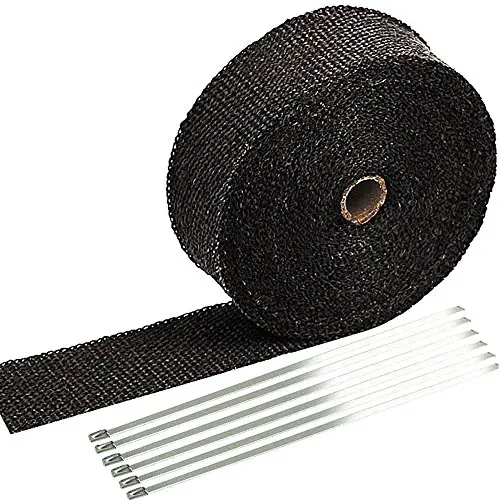 2. Foneso 2″ x 50′ Black Exhaust Heat Wrap Roll for Motorcycle Fiberglass Heat Shield Tape with Stainless Ties (2 Roll + 24 Ties Kit)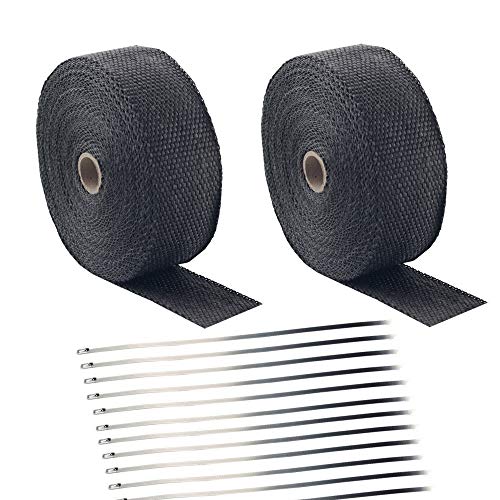 ---
Wrap Up
With the invention of motors, engines, and other latest vehicular automation products, the need to control and maintain their performance is also becoming prominent from the past few years. For this purpose, the operating methods and framework of such machine devices are first observed in order to find out their features that are likely to get harmed when neglected or not interpreted carefully.
In order to achieve our these maintenance goals for machines, there are several methods and tools which are designed so that we can preserve our machinery parts and let them keep working in a perfect fashion for a longer duration.
Talking about automotive parts of our daily life vehicles, the engine is the most significant and deciding unit. Depending upon the operating pattern of an engine, they are divided into few subcategories. With the increasing demand for fast and efficient vehicular performance, the recent engines have a complete well-structured system in them. But the concept of conventional engines can also be not ignored here. Basically, an engine, whether its the latest model or a conventional one, is supposed to consume some fuel as an intake, burn it at high temperature and covert this heat energy into mechanical one in order to drive the vehicle.