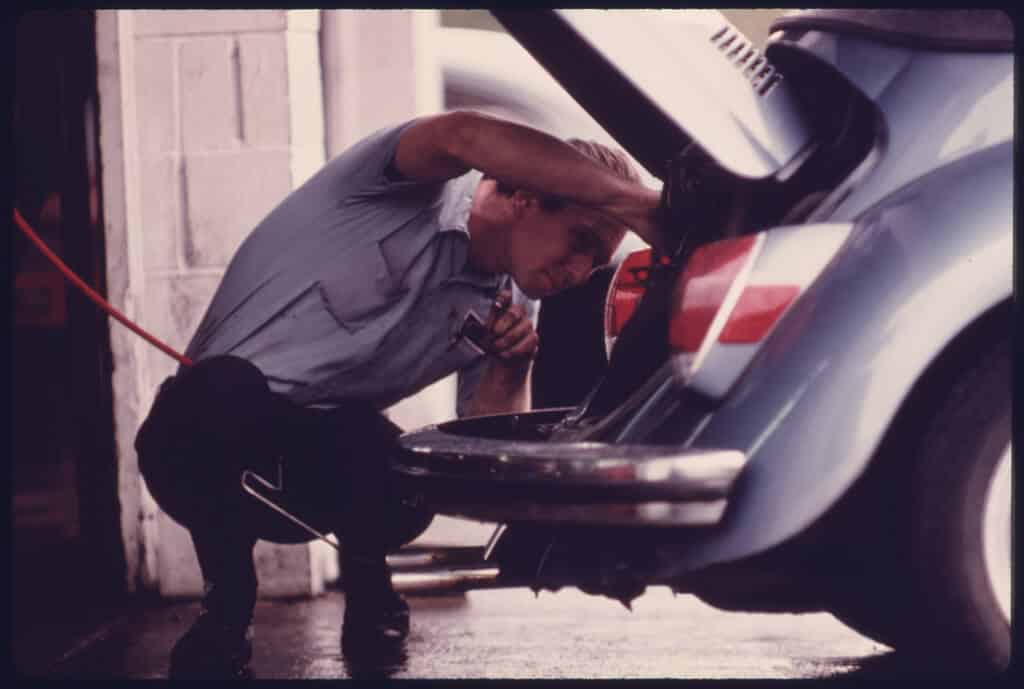 (Last Updated On: February 1, 2021)
Background
Motor vehicles and their fuels are the most significant sources of toxic air pollutants. The California Air Resources Board has lowered the public's exposure to these toxic emissions. Since 1990, the estimated cancer risk in California has been reduced to almost 50%. The positive news is that through CARB's strict emissions regulations, vehicles today are 95% cleaner than they were 30 years ago. In the future, CARB plans to make vehicles zero or near-zero emissions. For example, California has adopted a policy that uses only unleaded gasoline and established limits for the benzene content of the gas.
Diesel PM or particulate matter from diesel fuel engines contributes up to 70% of the toxic in the air today. Regarding this, California has led North America in cleaner burning diesel engines in both the heavy truck and medium-duty truck segments.
Pollutants Contribute to Cancer Risk
The International Agency for Research on Cancer (IARC) has noted air pollution to be a leading cause of cancer. Particulate matter from diesel engines is the most common carcinogen. Other carcinogens include 1,3 Butadiene, benzene, carbon tetrachloride, hexavalent chromium, formaldehyde, acetaldehyde, para-dichlorobenzene, perchloroethylene, and methylene chloride.
As part of enforcing the regulations and reducing the cancer risk associated with diesel particulate matter, California has targeted heavy-duty vehicle operators by initiating smoke inspections to ensure they meet the necessary motor vehicle standards. There are also regular emissions tests performed on cars that check for problems with the fuel injectors, catalytic converters, and oxygen sensors among others.
The State of California focuses on reducing this cancer risk caused by air pollutants by:
Researching health effects
Reviewing the surrounding air quality standards of an area
Expanding and monitoring the enforcement network
Making information accessible to residents
Reducing emissions through vehicle standards
Identifying the most toxic air pollutants to control
How to Know if a Car Is California Emissions Standard Compliant?
Figuring out if your vehicle has California or Federal Emissions standards is one the most straightforward tasks you'll perform.
It's important to know which jurisdiction your car has its emissions technology outfitted for so that you can learn to maintain it properly. To find out follow these instructions:
Prop the hood and latch it into place
Look for the catalyst sticker that may be on the airbox or the radiator support at the front of the engine bay
Read the label to see if it indicates California or Federal Emissions Standards
If you're a resident of California and will be driving the vehicle within the State boundaries, you must ensure that it is certified according to California standards. Although, there are some exceptions to this rule which include:
You got the vehicle as part of a divorce settlement or inheritance
You purchased the vehicle to replace your California registered vehicle that was stolen while out-of-state or was destroyed or broke down beyond reparability.
To qualify for these exceptions, you must show proof such as a court order or police report.
Also, you cannot modify a federally registered vehicle to meet California certification. It must be factory certified by the manufacturer.
Moreover, former military personnel are exempt from this rule and can register a federally certified emissions standards vehicle. All vehicles registered for the first time whether they are new or used must pass the California smog check.
There are six levels of vehicles that are California emission standards compliant which are the transition low-emission vehicle, low-emission vehicle (LEV), ultra-low emission vehicle (ULEV), super-ultra-low emissions vehicle (SULEV), partial zero-emission vehicle (PZEV) and zero emissions vehicle (ZEV). It is not without doubt that these zero emissions targets California is setting will impact the decisions of manufacturers to produce compliant cars. Eventually, the whole world will follow.
Conclusion
In conclusion, it is effortless to find out if a vehicle is California emissions or federally certified. It is merely a matter of looking under the hood. However, you should also know the other requirements California has imposed for your vehicle, and we hope this article helped you in figuring that out.