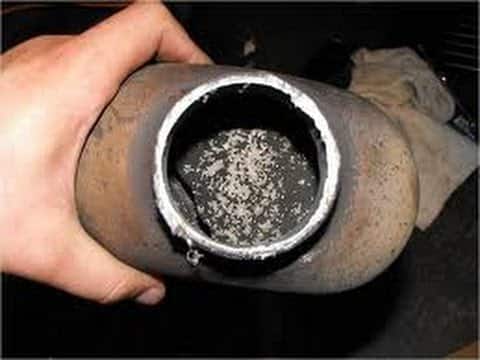 (Last Updated On: September 29, 2020)
Background
Driving with a bad catalytic converter is quite possibly but not safe. You can theoretically drive with a catalytic converter if it is partially clogged, but you will probably notice a drop-in performance sooner than later. If you want our advice, you should buy a catalytic converter cleaner and pour it into your fuel tank. After doing so, you can drive your vehicle, and the catalytic converter (CAT) will clean it. If the check engine light goes out after you are completed your driving session and have refueled as per the instructions of knowing how to use a catalytic converter cleaner, then all should be good.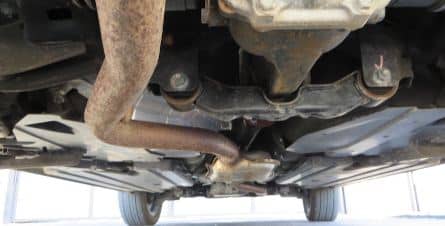 However, if your converter has structural load damage from road debris such as a flying object or ice, then it may need to be replaced with an aftermarket part. Thermal shocks from cold water or snow can also cause a 'deflating' of the converter.
If your catalytic converter becomes clogged, all the pressure buildup and heat inside will cause a back pressure along the exhaust pipes. Pushing the vehicle too far can lead to fire ignition. If you reside in an area that is subject to smog checks, it could mean your vehicle will not pass an emissions test. The worst-case scenario is you'll be ticketed for the violation and have an out of service order imposed until you get the converter fixed.
Can a Bad Catalytic Converter Lead to a Fire?
An overloaded CAT will work twice as harder to clear up all the pollutants that enter its chambers. The honeycomb substrate lining will deplete faster, and the exhaust system heats up to a temperature hotter than usual. The average operating temperature for a CAT is between 1200- and 1600-degrees Fahrenheit (650 to 870 degrees Celsius). It can theoretically work up to 2000 degrees Fahrenheit which is around 1100 degrees Celsius but significant increases beyond that, and there are chances that you are risking a vehicle fire. By now, the check engine light will illuminate, and you would have been aware of the issue. Wildfires have often been ignited from honeycomb carbon particles shooting out of the exhaust.
Do You Need a Cleaner or an Aftermarket Catalytic Converter?
Deciding whether the entire catalytic converter needs to be replaced depends on the diagnostics you perform. For example, you can buy a diagnostics kit that plugs into your onboard diagnostics (OBDII) port.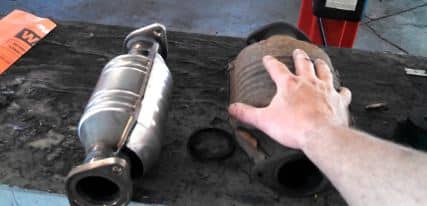 Follow the instructions of how to render the code with the specific kit you purchased and have the device read you back the code.
If it mentions a code associated with the CC, then you must take the information from the reader into account along with a visual inspection of the catalytic converter. Your aim in visually inspecting the converter is to look for physical damage such as cracking. The corresponding trouble error code for a faulty catalytic converter is P0420.  
If there is no structural damage, then you can proceed to use an emissions system cleaner such as Cataclean.
Cataclean will clean out the converter along with the oxygen sensor, and other exhaust parts through its chemical reactive process that occurs while the vehicle is being driven. It is the best preventive maintenance step you can take for your CAT. Also, make sure to check out our detailed guide on the best CAT converter cleaners on the market.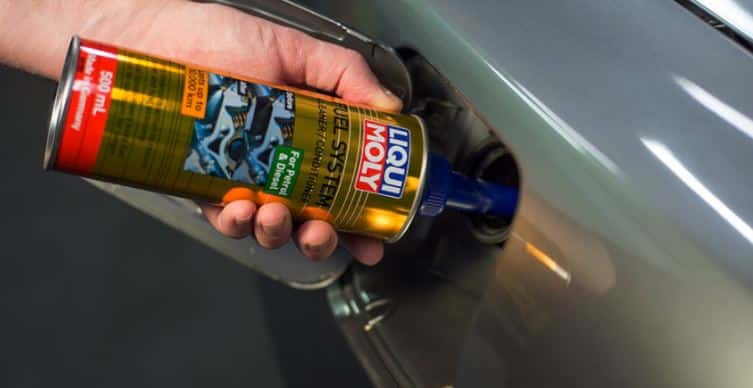 If you have concluded that you need an aftermarket converter, you probably will need a three-way catalyst plus oxidation converter.
These CC's are also called dual-bed converters because they have air injected between the two sections to aid in the two different chemical reactions occurring.
Three-way catalysts require a higher rich mixture, and the oxidation chamber needs a leaner mixture. As a result, air is injected after the three-way 'bed' and before the oxidation 'bed.'  It's important to have the right aftermarket converter outfitted because the incorrect one will hurt the performance of the vehicle.
Final words
In conclusion, while its possible to drive with a bad catalytic converter, it is indeed not recommended or safe.
As soon as the check engine light illuminates, you must tend to it with a scan tool and figure out if its code P0420 which is the corresponding error for the CAT.
Always use a cleaner to give your catalytic converter a 'rinse' every 3-4 months to ensure its properly tuned and maintained.